About
The data compiled on this site represents the most comprehensive bagel survey of New York City ever attempted.
202 bagel stores were reviewed on a zero to five scale with three ranking categories: Store, Bagel and Spread. Marks of distinction were given to the standouts of each category, along with 'Best of Borough' honors.
Each shop was judged on the merits of one order type: an everything bagel with scallion cream cheese.
To repeat this particular order served two functions. First, it operated as a means of controlled comparison. Second, both options allow for creativity and variety in preparation while still being among the most popular order options.
In addition to the 5-point scale, each store receives an icon grade:
| Icon | Rating | Description |
| --- | --- | --- |
| | 2.99 or below | Not up to New York City bagel store standards. Consider a breakfast sandwich instead. |
| | 3.0-3.99 | A passable bagel store experience, characterized by either generic offerings or spurts of brilliance weighed down by shortcomings. |
| | 4.0 and above | A high quality bagel store experience. You won't regret living nearby. |
| | "Of Note" | Represents the best store, bagel or cream cheese experiences of New York City. Fifteen awards were given in each category. |
| | "Best In Borough" | This is it. The best each borough has to offer. If you wish to know the best bagel experience in NYC as judged by these rankings, click on the icons and discover for yourself. |
A Brief FAQ
Why would anyone even attempt to do this?
"Everything is Everything" is one facet of a much larger project entitled "2020: Total Clarity" by creative duo Mike Varley and Jessi Highet, aka Highley Varlet. During "Total Clarity," the pair walked 5 marathons a week - 7,000 miles total - around the 5 boroughs of New York City for one calendar year. It was during this time that Mike began eating bagels routinely and cataloging the experience.
How long did this survey take?
A little over thirteen months. Roughly three bagels a week during "Total Clarity" and one final month of over 50 bagels to fill out soft spots in the city map.
"How could you not include >insert favorite bagel store?!< It's an institution!"
There are many reasons why a store may not be covered in this survey: multiple entries of the same chain, COVID closure, and no Google search presence are the three most common reasons.
In addition, when choosing the final 50 shops to flesh out the map, priority was placed on neighborhoods that had bagel shops but hadn't yet received review coverage.
All this said, if you believe there is a bagel store out there that simply must be on this list, feel free to reach out with all the info.
Some stores seem tied for city or borough ranking, what gives?
Everything is Everything uses a ranking system known as 'Standard Competition Ranking,' a phrase I didn't know existed until this project. In this method, tied bagel shops receive a 'joint ranking' and then rankings below them are removed.
For instance, if there were only four bagel stores in New York (the horror...) and two tied for second, the overall ranking would go "1,2,2,4".
In only one instance did I choose a tiebreaker - first place for 'Best in Borough - Brooklyn,' giving Olde Brooklyn Bagel Shop the edge over The Bad Bagel. In that case, the stakes were too high to leave the issue unsettled.
What makes a "5" Store, Bagel or Cream Cheese?
Ranking methodologies can be found here.
The Ten Axioms
To conclude, this page could easily be filled with an essay's worth of bagel insights but some attempt must be made at brevity. One day that essay will be written - sooner if requested - but for now I will leave you with Ten Bagel Axioms:
Ten Bagel Axioms
Do not toast a bagel if you know it is hot or fresh.
Toasting raises the floor of a bagel but lowers the ceiling.
Bagels from appetizing stores are designed to be eaten with lox.
Stores that put effort into their spread displays generally make good bagels.
Higher trafficked stores beget frequently fresher bagels beget higher trafficked stores.
While some bagels are worth waiting for, never underestimate the pleasure of a 30-second bagel transaction executed by a bagel store pro.
Caraway seed is the best non-standard everything topping, and the least used.
At their peak, bagels are the barbeque of breakfast: heavy, savory, and almost too messy to bear.
An irregularly shaped bagel will almost always taste better than a perfectly round bagel.
If you can smell the bagels, you're in the right place.
Press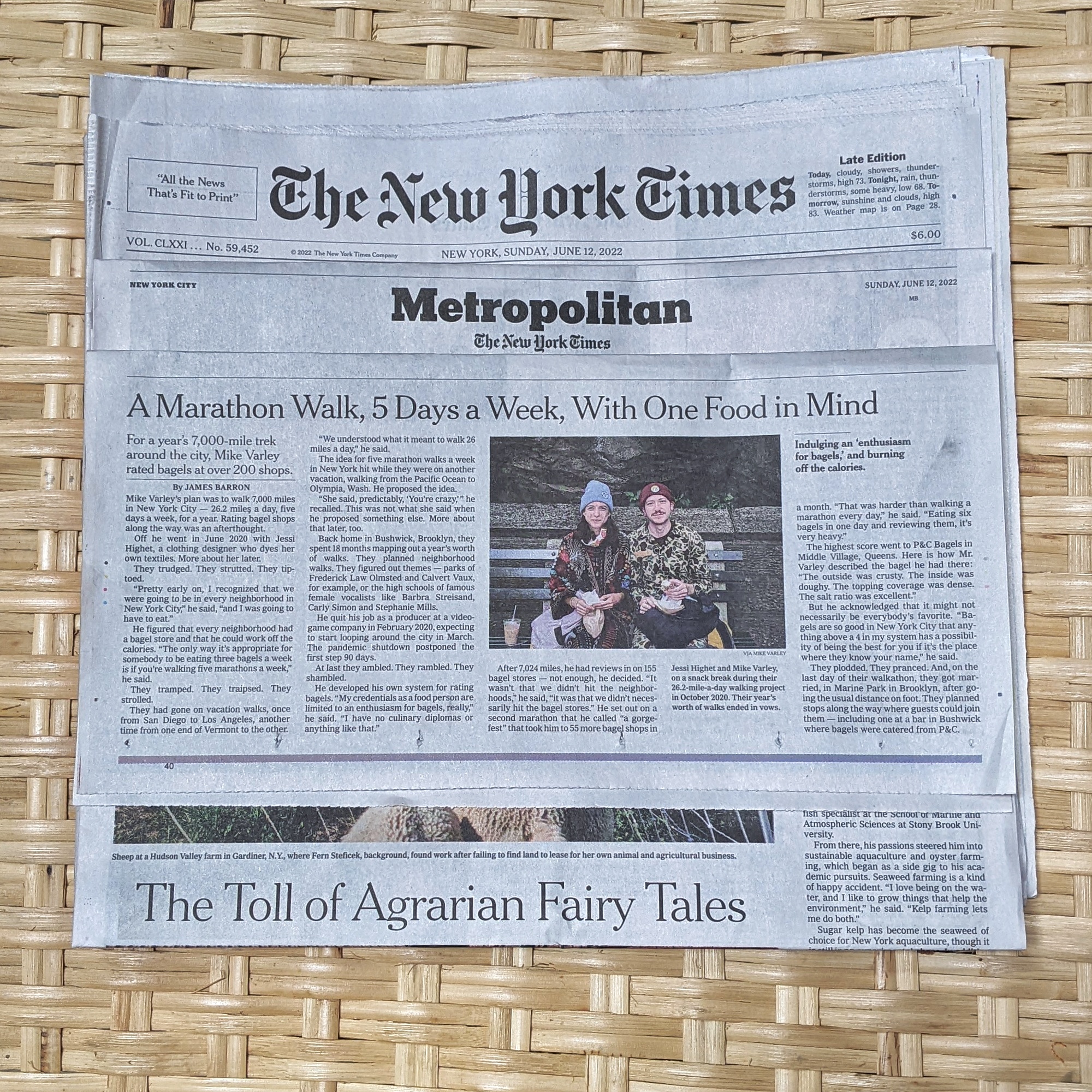 Print & Web: The New York Times, The Washington Post, TimeOut NY, Pix 11, GothamToGo, Patch News: UWS, I Love the Upper West Side, Cafe Anne, Rockawave, QNS.com, Nifty Newsletter, SI Live, Brooklyn Paper, Jewish Telegraphic AgencyLIC Talk, Today Show Online
TV, Film & Radio: Today Show with Al Roker, NPR, 1010 Wins, NY1 News, NBC4, FOX5, The Bagel Buzz with Sam Silverman, NY City Lens
Contact
For any questions about the project and media inquiries, please contact highleyvarlet@gmail.com